I just came back from the pool, where the lifeguards, who up till now spent their down time twirling their whistles, playing cards and flirting, all had their heads in books. Summer reading! The deadline approaches. It made me smile and think of all those What I Did on My Vacation essays I had to write on the first day back to school. I remember how strange my fingers felt clutching a pencil again–all summer they'd held nothing but baseball bats, jars of lightning bugs, creamsicles, and, of course, books (no, I didn't want to be a writer when I was growing up, but I have been a crazed reader since age 6).
My summer has been happy, though there was one thing I desperately wanted to do and didn't. First, the happy news:
–I went to an art class at the museum with my 2 1/2 year old granddaughter.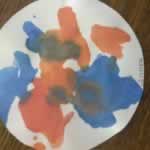 (Rorschach test: I see pangea)
–I heard this girl laugh for the first time.
–I went to the conference of the International Literary Association in Austin, Texas, where I presented with my wonderful friends and stellar middle grade writers Ruth Freeman, Karin Yan Glaser, Janet Johnson and Laura Shova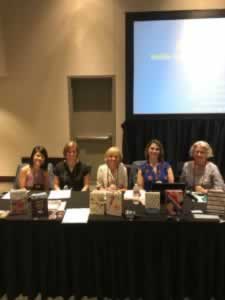 n on a topic close to all our hearts. This was one of the most wonderful conferences I've ever been to–it was all about the kids we try to serve. The teachers and librarians  who came moved me to tears with how hard they work at their jobs, often against odds those of us who aren't in schools every day can only guess at.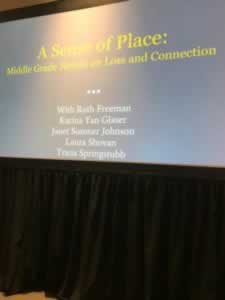 I also got to yuk it up at the Candlewick booth where I was signing CODY.
Mr. Schu!
–I went on a writing retreat with my best women friends, including Kris Ohlson, who shared her family's house in Lake Tahoe with us. Kris and I hiked the Barker Pass one glorious, glorious June afternoon.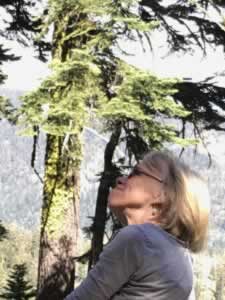 I'm still a little surprised we ever came back.
—And, I wrote. And re-wrote. And re-wrote.
Which brings me to what I never did. Which is finish this novel. Not yet. It continues to twist and turn in my hands, a frustrating, thrilling moebius strip of possibility.
The book still isn't done. But then, neither is this summer.