It's school visit time again.  One of the questions kids often ask me is, What inspires you to write? My answer is always YOU!  Writing is usually a solitary job. It's me, my cat, and my muse, who too often sleeps in or decides to spend the day with some other writer. There's a lot of mumbling to myself, a lot of squinting out the window (where the view, Cleveland in mid-winter, is bleak).
So visiting with kids who brim with energy and curiosity, who have imaginations and hearts so big that they care about the characters in stories as deeply as they do real people–well. I always leave tired out, but in the very best way, having given and received in equal measure. The next day, I'm ready to dive back into my work, renewed and inspired.
Here's the fountain of happiness one school made to celebrate the visit:
(Kids wrote things that made them happy on those beautiful strips of paper.)
And here's a portrait of me done by a kindergartner: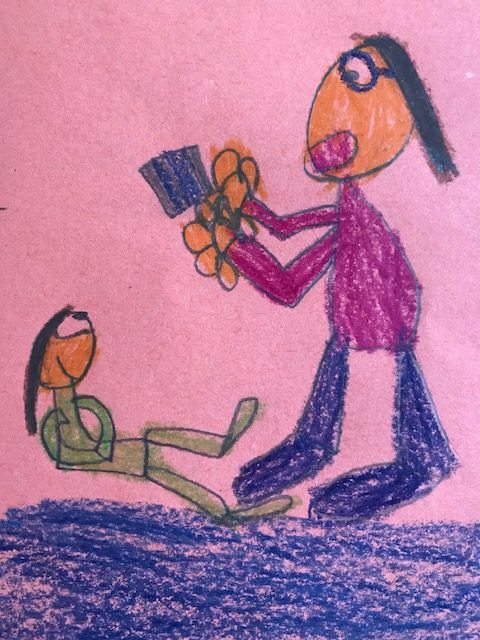 (I didn't really step on her, I promise!)
And here's me, enormous talking head, during one of the many terrific Skype visits I've gotten to do this month:
(It was as cozy as it looks.) (I've been everywhere from Alberta, Canada to the Bahamas, all in my PJ bottoms.)
Lots more visits to come! I won't be lacking for inspiration any time soon, thank goodness.