…there was a haunted house. No one had ever lived in it, at least no one the children knew. It had always stood on the corner, empty and dark except for the small, dim light that burned in an upstairs window.  The children dared each other to climb the crumbling front steps onto the porch, and some did, only to run back down with pounding hearts. Bones in the cellar. Ghosts in the attic. They were sure of it.
The neighborhood grown-ups, as you might guess, considered the place a hazard and an eyesore. Someone must own it–everything was owned by someone.  But year after year the house stood, empty and neglected and a little bit closer to falling down.
So, at last the city tore it down. The grown-ups were relieved. The children felt sorry.
How big the lot was. The old house had taken up most of it,  but when the rubble was cleared away, everyone was surprised by how much empty space there was. What to do with it? The city said it was up to the neighbors.
And so…something new began to grow.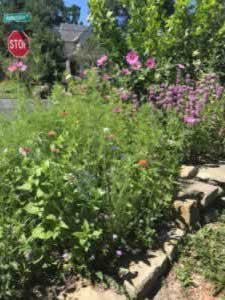 Flowers. Some planted, some volunteers.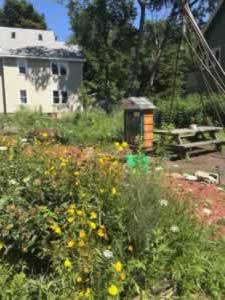 A little free library. (Which is, the narrator will now interrupt to say, her favorite thing of all. And to which she adds,  once or twice a week, children's books she's loved or hopes some child will love. And which makes her feel like a fairy godmother, a book fairy–but that must be another story…)
Art. Some by grownups…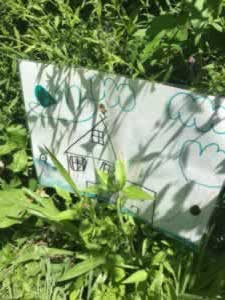 …and some by children.
In honor of the haunted house, which some still wistfully remember, our little community park is now called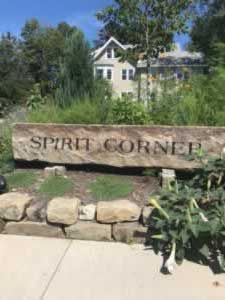 May it live, happily ever after!
(And lest you think the park has suffered an earthquake: I have no idea why my photos all loaded sideways, or how to right them. Deepest apologies if you have gotten a kink in your neck reading this.)