Actually, summer is  a time when I do a lot of writing, long stretches mostly uninterrupted by school visits or appearances. Right now I'm working hard on a total revision of a middle grade novel that sadly imploded, and I think it might possibly maybe in some regards and in certain lights be going very well.  Next week we're going away for some time by the ocean (my other mother) and since I'm on a roll I don't dare take a break. I'll be bringing the book with me, spending the mornings writing, walking the beach with my characters.
It wouldn't be summer, though, without my garden…
…and Wednesdays with my grandbaby…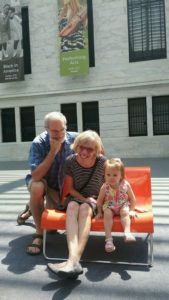 …and a visit to a summer reading program (which used to be my very favorite thing about working in a library) where I had the time of my life…
…and the summer book festival at one of my favorite indies, Loganberry Books, where I got to kibbitz with my buddy Megan Whelan Turner (undocumented by photos, fortunately!)
I also want to write about my local little free library, but that deserves real thought and…I guess I am too lazy right now. Keep cool, everyone.