..at Nerd Camp.
Which is a wonderment that takes place in tiny Parma MI. Which, if you never heard of the place, is understandable but regrettable.  This year about 2,000 (yes I got the zeroes right) teachers and librarians gathered there to talk about reading and writing, with one another and with the authors and illustrators lucky enough to join the conversation.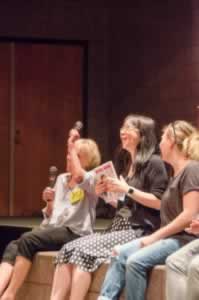 I went to camp last year, too, and my respect, gratitude, appreciation, indebtedness to these educators, already ocean-deep, grew yet deeper. Working in schools has always been challenging (my husband taught for 30 years, and I saw that firsthand). But right now, teachers face a monetizing and quantifying of their profession that is nothing short of  soul-killing.
Yet here these super-heroes were, putting heads together and arms around one another.  We were galvanized by talks from Donalyn Miller, Colby Sharp, Kate DiCamillo, Teri Lesesne and Kathy Burnette. We workshopped and brainstormed and lest you think we were too admirable, we drank beer and laughed a lot.
Then, on the second day, 700 kids showed up (got those zeroes right). And we all made stuff together, without  worries about scores or levels or, as Jenni Holm put it, the "curse of perfection".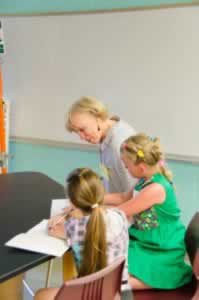 My workshop was on dialogue, and we had mermaids, robots, princesses and guys named Bob talking to each other. When at last we all had to say goodbye, we stepped outside to find a double rainbow arching over the school.
The funny thing? I hoped to help teachers to be better, happier writers, and to inspire kids to let their imaginations run wild. What a gift to discover that over those two days,  my own desire to write  close to the bone and heart steadily grew. And grew and grew, so that when I got home, I couldn't wait to get to this desk.